Reading, Writing & Phonics
At Mundella we believe that being able to read and write are the most important skills that will open the door to other learning for our children. We want our children to develop a love of reading and have the necessary literacy skills to support them throughout their lives.
Reading
Reading is given high priority at Mundella as it is the key to independent learning. We want our children to become confident, enthusiastic, independent readers who are reflective and read with high levels of enjoyment, understanding and comprehension. Success in reading has a direct impact upon progress in all other areas of the curriculum and is instrumental in developing children's self-confidence and motivation. We endeavour to promote an enjoyment of reading and the understanding that reading is a life-long skill which opens the door to a world of knowledge.
Reading takes many forms at Mundella, and many of our other subjects are taught through a variety of reading material which is presented to the children. Our classrooms are visually stimulating to help children develop their reading and writing skills.
Reading starts at home with children being exposed to print around them in their daily lives. Listening to stories and sharing books with others as well as physically turning the pages supports our young learners on their journey to becoming fluent readers.
Try these links below to enjoy stories with your children.
http://www.magickeys.com/books/
https://www.storyjumper.com/book/search
https://www.oxfordowl.co.uk/for-home/find-a-book/library-page
Writing
At Mundella we use the Sounds-Write programme is that the children learn the link between sounds and symbols at a very early stage and begin to write the sounds covered immediately.
Within school, we work explicitly on spelling, punctuation and grammar to ensure that these technical elements of writing develop as the children progress through the school, whilst always focussing on the quality and content of the children's writing.
Teachers plan stimulating and engaging experiences to encourage the children's writing, all designed to give a 'real' context to the children's writing and to bring the curriculum to life.
In school we use 'feedback marking' to ensure that children gain a good understanding of the things they are doing well and what they need to improve. This is achieved through our ''tickled pink' and 'blue for better' feedback process. The children are then given an opportunity to respond and improve their writing.
All teaching staff are trained in using Pie Corbett's 'Talk for Writing' programme where children learn and rehearse key texts orally through the use of story maps before planning new or similar stories using key features. This systematic approach enables children to learn in depth the process of applying new skills through a supportive and structured approach. Children learn set time connectives (so, before, moreover for example) within each year group and understand the main points of different genres of writing, for example- how to write a suspense story, the key features of a non- chronological report.
Children are encouraged to make links between reading and writing, using techniques and skills employed by authors of texts they have read. They also make links between writing and speaking, working hard to understand the differences in the language used for both.
Teachers make detailed assessments of children's writing and, in conjunction with the child, identify individual targets for further improvement and development by using 'cold' and 'hot' writing tasks.
For further information: www.talk4writing.co.uk
Parents are encouraged to help with their child's writing development by helping their children to write for different purposes at home and by supporting in written homework tasks.Try nthese links for some fun writing activities
https://www.topmarks.co.uk/english-games/5-7-years/writing
https://www.topmarks.co.uk/english-games/7-11-years/writing
http://www.funenglishgames.com/writinggames.html
Phonics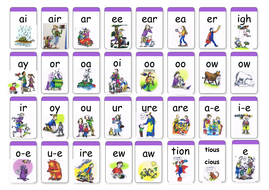 At Mundella we approach phonics teaching and learning using the government endorsed "Read, Write, Inc" programme. This begins very early on when children start school in the Foundation Stage and continues until a child is a confident and competent reader and speller.
The knowledge of sounds and symbols is an important starting point for understanding and using written language and we believe that a strong and consistent approach to the teaching of phonics is vital for our children to begin to access the rest of the curriculum.
http://www.ruthmiskin.com/en/resources/parent-tutorial-1-understanding-read-write-inc-phonics/
Click on the links below for some fun phonic games.
https://www.phonicsplay.co.uk/InteractiveResources.htm
https://gb.education.com/games/phonological-awareness/
https://www.topmarks.co.uk/english-games/5-7-years/letters-and-sounds
http://www.ictgames.com/literacy.html